Pizza Ovens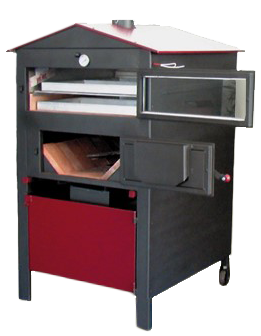 The perfect Italian pizza isn't always easy to replicate with a standard conventional oven. As most people have discovered, often it can be tricky to obtain an even cook, resulting in an under-cooked or over-cooked pizza. Unlike traditional ovens that use electricity to cook, wood burning pizzas ovens use wood, as the name indicates. Your pizza will have that distinct taste and smell that you can typically only experience in traditional, Italian dining places.
While it takes longer to heat up with a wood-fired pizza oven, once hot enough you can look forward to crisp bases and molten toppings each and every time; a smoky sizzling pizza that leaves a burst of flavour in your mouth. Truly worth the wait!
Not only are they the new-it appliance, they also provide a fashionable and entertainment value to residents, who enjoy hosting summer BBQ's with friends and family gatherings! In fact, pizza ovens are more popular than ever; it's the social butterflies out there that will appreciate this unique alternative to cooking!
If you want to take your food to the next level with impressive eats for everyone to enjoy, at Forest Glade Fireplaces, our wood-fired pizza ovens will "make your party"
So What's the Appeal Exactly?
Delicious Taste: Pizza connoisseurs who taste pizza that has been cooked in a wood-fired pizza will rave about the taste! It allows you to cook your crust perfectly crispy, while achieving enhanced flavour of each of the toppings. Each pizza will include a unique, smoky flavour that can only be achieved with a wood-fired pizza oven from ForestGlade Fireplaces.
Cook More than Just Pizza: Perfect alternative to bbqing baking, roasting and smoking. Make bread, cook roasts, fish, stews, or even sweets!
Little to No Cleaning: Save time (and energy). There's typically no cleaning involved. Any grease left in the oven simply burns off in the heat.
Environmentally Friendly: Wood-fired cooking is an environmentally friendly solution, as it requires no electricity or gas, just the heat from the fire.
Conversation Piece: Wood-fired pizza ovens are unique and charming! You can bet your guests and family members will have lots of interesting questions. Show them how it works and watch as your home become the new favourite spot for social gatherings.